Lithuanian language
Public Service Language Centre organizes various language courses : Lithuanian, French, Russian, Italian, Spanish, Chinese and others according to customer needs and individual customer orders.
The course duration, intensity and price  are set up individually.
Our teachers may come to your office or you are invited to study in our premises. We train company employees both  internally (only for employees of organizations) and externally (by joining the trainings taking place in PSLC premises) as well as tutor one-to-one.
Currently courses are only available online.
LITHUANIAN LANGUAGE SCHOOL ONLINE from 7 April!
7  April, 2021, at 19.00 to 20.30 p.m. (Lithuanian time, EET) Beginner/False beginner (A0-A1.1) JOIN THE COURSE! REGISTER  ONLINE  (CLICK HERE)
We offer a 40 academic hours of general Lithuanian course.
Time table – 2 times a week (Wednesday, Friday) 2 academic hours per one lesson.
COURSE PRICES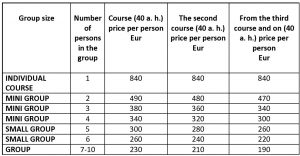 We are looking forward to welcoming you in ONLINE!
Laukiame Jūsų!
More info by phone +370 655 31343 or email seminaras@gmail.com